HEAVEN BOUND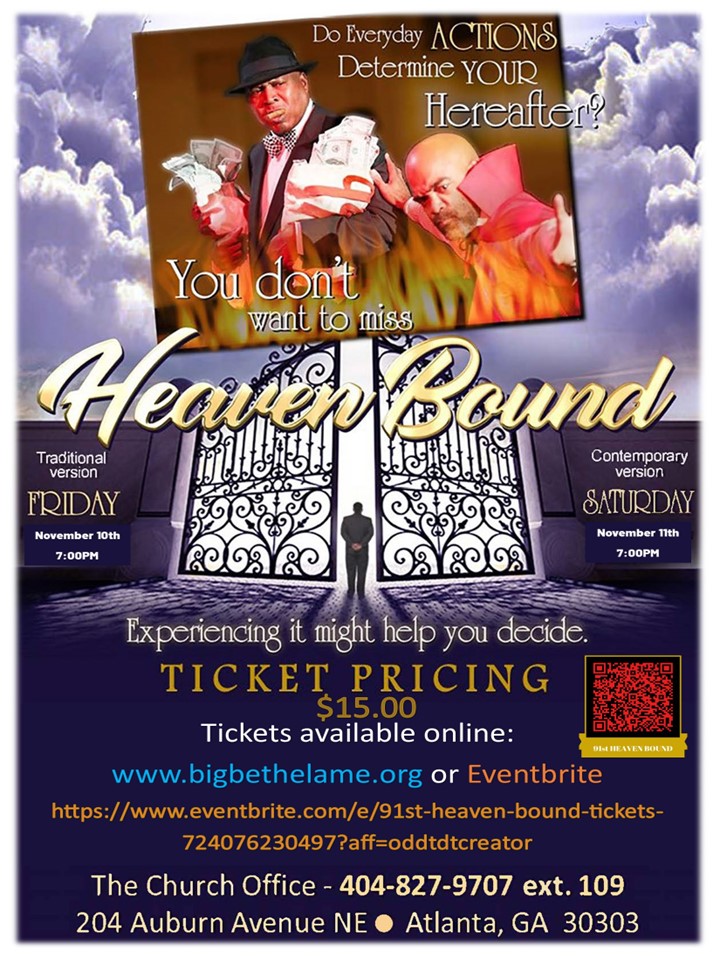 Heaven Bound is an outstanding tradition of the Big Bethel African Methodist Episcopal Church. This is our 91ST production and since this great morality play was written in 1930, it has reached thousands with its saving message.
An article in Time magazine dated August 10, 1931, stated the following, 'This is the import of almost every Negro spiritual; it is the import of a morality play called Heaven Bound which has made its appearance in Atlanta, performed by the choirs of Big Bethel African Methodist Episcopal Church. The first wide public to hear about Heaven Bound was the theatrical world. Theatre Guild Magazine for August called it "the first great American folk drama" and said: "It should and probably will make Georgia an American Oberammergau. "
Recalling the power of The Green Pastures, a Negro religious play written by a white man (Time, March 10, 1930), observers hastened to inspect a genuine all-Negro product of the same kind, produced for religious instead of commercial purposes. 
Its conflict is the effort of the Devil to catch pilgrims on their way to Heaven.  Heaven Bound was performed publicly for the first time at the Atlanta City Auditorium in October 1930.'
Join the Big Bethel AME Church family, as we celebrate the 91st production of the longest-running play in North America.

Bring the entire family for this wonderful morality play and enjoy an evening of spiritual songs and devilish shenanigans.